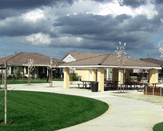 Green Valley Landscape is aware of how important it is to complete projects within
an established timeframe and we never lose sight of the fact that the finished
product reflects the integrity of our customers and ourselves. The dedicated
employees at Green Valley Landscape are committed to high quality and
beautiful installations and consistently maintain a high level of efficiency and
excellent customer service.

We are accustomed to working with local municipalities, builders, architects and
homeowners to ensure projects are completed according to specifications and on
time. Green Valley Landscape has the experience and capacity to handle projects
of any size.